BE AWARE – Some Examples of How Parental Alienation Manifests in an Educational Setting. Look for repeated incidents and patterns:
"For many people, there is an additional battle they have to wage– with their natural tendency to be angry. One prevalent example is the angry mother or father who poisons his/her children against the other parent after a divorce, thereby often irreparably damaging both the children and the other parent" — Dennis Prager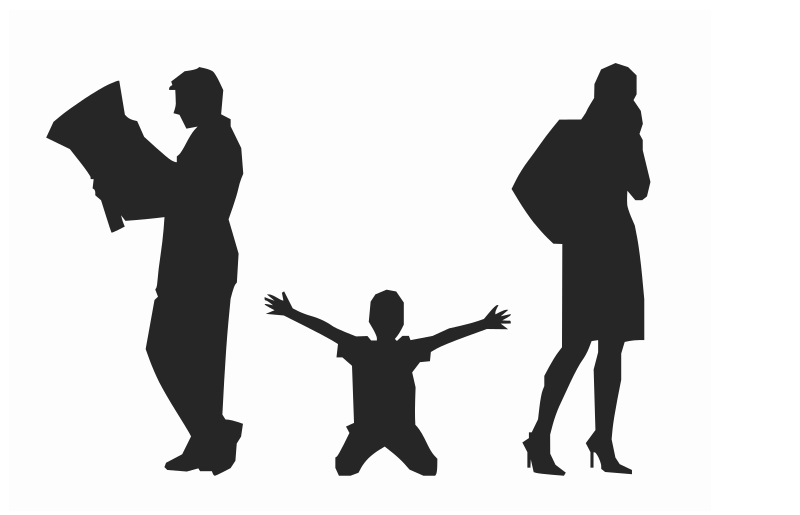 *Be aware when one parent makes false accusations against the other parent, makes disparaging remarks or discloses inappropriate personal information to teachers, social workers or other school staff.
False allegations may be hard to detect because the alienating parent can give the appearance of being a caring, involved parent. Watch for remarks that have a hostile tone. Watch for remarks that reveal inappropriate personal information. Watch for remarks and a tone that is always negative, hostile or feels like gossip toward the other parent.
*Be aware when you may find yourself not liking the other parent based on what you have heard, or you find yourself becoming hostile towards the other parent. This is especially true if you never met the other parent.
*Be aware when a child is making negative, critical or otherwise derogatory remarks about the other parent, especially if the child's words or demeanor are similar or repetitive to comments you heard from the other parent. In cases of alienation, the child is hyper critical- they will always find fault with the "targeted parent". The child may express that they hate their parent or wish they were dead. The child may speak about adult issues that no child should be aware of—blaming one parent as the cause of the divorce/separation, knowing details about the court involvement (and taking the side of one parent against the other), knowing details of family finances (blaming one parent for financial troubles) are common in cases of alienation. The child may also blame themselves as the cause of the family troubles, and take on more of an adult role.
*Be aware when it becomes apparent that the statements made about the other parent are untrue or do not match what was being reported. If you are an educator, and this is happening, be careful not to take sides—instead consult a supervisor of what is happening, and seek their input on how to handle the situation. Remain neutral, do not get personally involved. If you feel the child is at risk of harm, contact the proper authorities.
*Be aware when professional boundaries become blurred; maintain firm boundaries with clear expectations for both parents. Common examples of poor boundaries: Taking extra time to talk or have coffee with a parent, and the discussion becomes more social. Sending messages to one parent from the other. Withholding information from one parent about their child (grades, progress, school meetings, etc.) Making opinions about parenting time or custody. Favoring the child because you feel sorry for him.
*Be aware when a parent makes inappropriate or unreasonable requests of the school. Examples: Parents asks school to monitor or check up on other parent and report back to them. Parent uses school to report allegations of child abuse rather than seek help through a doctor, CPS, police etc. Parent asks school to monitor exchanges with other parent. Parent asks school to violate court orders.
*Be aware when someone other than the biological parent (family member, friend, new partner/spouse etc) is identifying as the child's Mom/Dad when that parent is still alive, and still involved in the life of the child (even if the parent is absent, this is a red flag). Be aware of someone other than a biological parent identifying themselves as legal guardian and there is no court order giving them the authority.
*Be aware when a parent sabotages child's progress in school. There is a wide range of behavior from encouraging rebellion in a child, to making a child afraid, to giving a child caffeine, sugar or drugs to change their behavior in school, to refusing to bring a child to school (etc)
*Be aware when a parent refuses to consent to needed educational interventions, testing or school conferences etc Be aware when getting help or services for the child is a battle. As a result, the child's progress, health and emotional state my decline or show signs of drastic change. The parent's reasons for rejecting the help or services may sound irrational, focused on the needs of the parent and NOT the child, or this parent may have a history of engaging in conflict when the other parent is involved.
*Be aware when a parent does not adhere to boundaries, rules or requests.
*Be aware when one parent blames the other parent when the child is not doing well in school. The blame is often unreasonable, out of context and includes inappropriate disclosures of personal information. The tone used is typically hostile or defensive. Attempts to talk or reason with the parent seem to increase conflict or result in the parent criticizing the other parent. The parent may also demonstrate hostility, anger and a punitive tone towards the child. Or the parent may elicit the child to say negative things about the other parent.
Examples of common remarks: Jane's grades are poor because she is visiting the parent more often. Jane's behavior is bad because there are no rules at the parent's house. Jane did not get her homework done; I bet the parent was out partying again.
*Be aware when one parent is receiving all of the information, is the source of all communication, is present during all school functions and the other is excluded or absent. Explanations about that parent's absence are not explained, explanations may not make sense or the reasons for the absence change. This is especially true when there is no court order to limit the other parent's involvement.
When the other parent contacts the school they may express that they are not getting updates, they may sound confused, and alternately may tell you that they are being alienated or kept from being involved. Do not judge or take sides. Remain neutral, and give both parents an equal opportunity to be involved and receive updates. Send out reports and notices to each parent.
*Be aware when a child is tardy or absent from school during or after parenting time with one parent. This would happen repeatedly, without any explained absences.
*Be aware when a child is expressing extreme remarks that are unusual for their age, remarks may be directed at one parent or expressions of anger, rage, or knowledge of adult subjects. Also be aware of depression, suicidal thoughts, inability to socialize and anxiety in a child, as these symptoms often accompany alienation. Do not try to treat or diagnose a child, rather seek the appropriate professional help or guidance available in the school setting.
*Be aware when a child says things like "I don't have a Mom/Dad" or my "Mom/Dad is dead" when that is not true. The child may also draw or play out family scenes that involve turmoil, violence, death, sadness or even apathy. The child's remarks and behavior are often atypical, and stand out as being different from peers.
*Be aware when a child repeats disparaging remarks about the other parent. Or have knowledge about adult or family court/child custody matters. The child will seem to have taken the side of one parent and will be totally against the other.
These are all indicators of alienation. 
— Emily Court, 2014
FOR MORE INFO:
Kids Aiding Parental Alienation Awareness Organization: http://kapaao.paawareness.org/
17 Strategies for Combating Parental Alienation: http://parentalalienationinfo.com/2012/09/17-strategies-for-combating-parental-alienation-syndrome.html?189db0
The Leadership Council: Differentiating Abuse from Alienation: http://www.leadershipcouncil.org/1/pas/diff.htm
_________________
Have You Experienced Parental Alienation. If So What Were the "Red Flags" or Indicators that Alienation was Happening? What did you do cope or get help for your family? What works? As a teacher or educator, what are your experiences with alienation or triangulation (you can post anonymously)
Please Share in the Comments